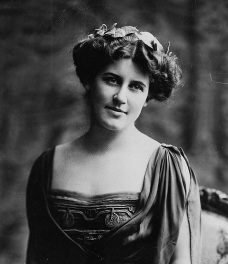 About Inez
Inez Milholland
was born in Brooklyn, New York, on August 6, 1886. She graduated from Vassar in 1909 and earned a law degree from New York University in 1912.
She became an active suffragist after meeting Emmeline Pankhurst in London and worked with other suffragists in New York City before and during her brief legal career.
In 1913 she married Dutch businessman Eugen Boissevain and was gaining recognition as
Inez Milholland Boissevain
when she died in Los Angeles, California, on November 25, 1916.
Chosen by Alice Paul in 1916 to be a "flying envoy" to the new women voters in the west, Inez joined other western campaigners and set out to make more than 50 speeches in 30 days in 11 states.
The grueling pace took its toll on several organizers but Inez kept her schedule despite growing pain and exhaustion.
Finally, her body gave out while speaking on a Los Angeles stage and she "wilted like a white rose."
A month later, she died of pernicious anemia and was later buried in Lewis, New York.
Mourned as a martyr by her comrades, Inez became a symbol of the sacrifices women were forced to make to win their own civil rights, particularly the right to vote. Her courage and commitment inspired suffragists in prison and women throughout the country who continued to demand the 19th Amendment until it was finally ratified in 1920.
Inez is the subject of an excellent biography, "Inez: The Life and Times of Inez Milholland" by Linda J. Lumsden. "Remembering Inez" has as its focus her last speaking tour and her influence on other suffragists and the nation.
Visit
InezMilhollandCentennial.com
for more on Inez and celebrations during 2017.
____________
---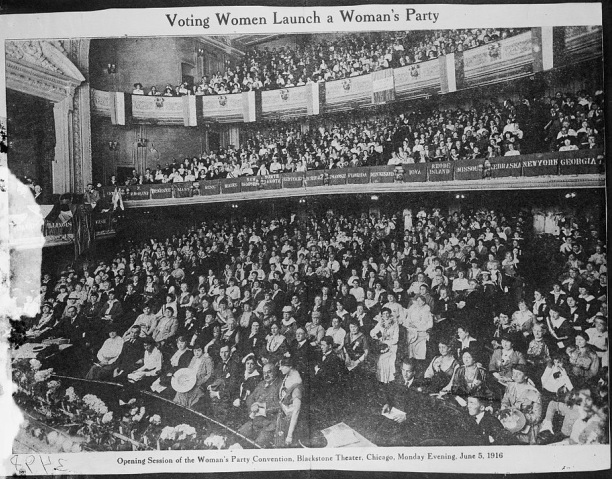 Suffragists form the Woman's Party in Chicago in June 1916

Women from across the country, including delegates from the eleven equal suffrage states in the west, met in Chicago (right) just before the Republican Party convention in June 1916, to create a new political party, the Woman's Party, to press for the 19th Amendment.




---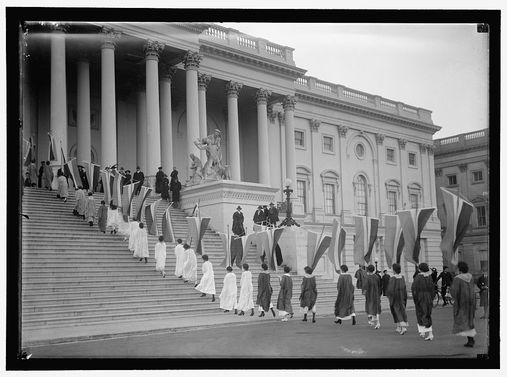 The National Woman's Party's Memorial to Inez in the National Capitol, December 25, 1916

Mourners carrying the National Woman's Party purple, white, and gold banners (left) enter the U.S. Capitol on Christmas Day, 1916, for the Memorial Service for Inez Milholland. The emotional ceremony was the first time a woman was honored in Statuary Hall under the dome of the Capitol. Suffragist Doris Stevens wrote that Inez's sacrifice "lighted anew the fire of rebellion in women." Two weeks after the service, suffragists began picketing the White House with Inez's question on their banners: "Mr. President, How Long Must Women Wait for Liberty?"











---