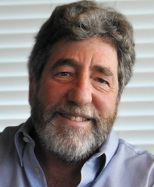 ROBERT P. J. COONEY, JR.Remembering Inez: The Last Campaign of Inez Milholland, Suffrage Martyr
was created by Robert P. J. Cooney, Jr., who selected the passages and wrote the Introduction. Mr. Cooney is the author of
Winning the Vote: The Triumph of the American Woman Suffrage Movement,
which details the many actions and campaigns women organized to win the right to vote before 1920. To familiarize more Americans with the women's rights movement, he began the Woman Suffrage Media Project in 1993, creating resources and consulting on related projects. Mr. Cooney also created and co-edited
The Power of the People: Active Nonviolence in the United States,
which traces nonviolent action from the days of William Penn and Mary Dyer to recent movements for peace, civil rights, and environmental protection. Mr. Cooney is the principal of Robert Cooney Graphic Design in the San Francisco Bay Area and serves on the Advisory Board of the National Women's History Project, which presented him with its "Write Women Back Into History Award" in 2005. He helped organize the Inez Milholland Centennial during 2016 (
InezMilhollandCentennial.com
).
____________________________________________________
---
Review
School Library Journal
-
February 2015
Starred Review
Cooney, Robert P. J., Jr. Remembering Inez: The Last Campaign of Inez Milholland, Suffrage Martyr. 96 p. American Graphic. Mar. 2015. pap. $14.95.
ISBN 9780977009527. LC 201493850.
Gr 9 Up – When a friend spoke at suffragist Inez Milholland's funeral in 1916, she said that Inez "is one around whom legends will grow up." In her time, certainly, Milholland was a celebrity. Young, beautiful, rich, and articulate, she was a passionate and active proponent of women's suffrage. Somehow, her name is lesser known compared with her predecessors, such as Elizabeth Cady Stanton and Susan B. Anthony, and her contemporary Alice Paul. Even though Milholland died when she was 30, her contributions to the cause of women's suffrage are immeasurable. This slim volume consists largely of articles, speeches, and resolutions from issues of the magazine The Suffragist, all of which concern Milholland's background, character, beliefs, and work.
The excerpts are accessible to modern-day readers, being largely devoid of the stiff, formal language common in writings of the day. Cooney's introduction provides ballast to the laudatory articles, pointing out aspects of Milholland's life that were controversial, especially her advocacy of socialism and free love. In addition, Cooney describes in brief the political clime of the nation, couching Milholland's attitudes and actions in a larger historical context. The illustrations consist of black-and-white archival photos. The well-curated images depict suffragist promotional materials of the day and Milholland and other women participating in protests.
VERDICT This is a vivid, engaging account of a young woman who filled her short life with activity and meaning. Perhaps this book will bring Milholland's life and works back into the spotlight. – Jennifer Prince, Buncombe County Public Libraries, NC
For more information on Inez, visit
InezMilhollandCentennial.com
.
____________________________________________________________________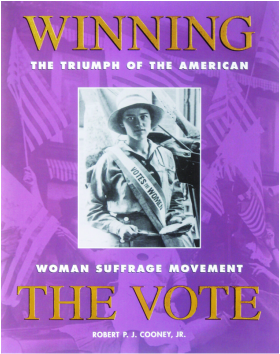 Also by Robert P. J. Cooney, Jr.

WINNING THE VOTE
The Triumph of the American Woman Suffrage Movement


Named one of the "Five Best Books" on the suffrage movement
by The Wall Street Journal

"A visually rich collection" – Library Journal
"Splendid" – School Library Journal
"Fantastic" – Prof. Ellen Carol DuBois, American suffrage specialist
"Lively and dramatic . . . it tells our story" – Michigan Women's Forum


Winning the Vote is the book on the American women's rights movement. Anyone excited by U.S. history, women's history, American independence, or modern social movements will find this book indispensible. With over 960 historic photographs and color illustrations of women taking political action, the 496 pages of Winning the Vote bring the valiant and exciting struggle for equal rights alive for today's readers.

The text and spectacular imagery expertly capture the context, excitement, and determination of suffragists' many electoral and direct action campaigns from 1848 to 1920. Winning the Vote includes profiles of 75 individual suffragists - women and men, black and white - and celebrates the great democratic achievement of American women as never before.


"No academic library's Women's Studies or Political Science collections can be considered either comprehensive or complete without the inclusion of Robert Cooney's Winning the Vote!" - Midwest Book Review


9 x 12" 496 pages Clothbound with 4-color, gold-stamped dust jacket, gold silk bookmark, high quality coated stock, sewn & glued binding. Includes over 960 black and white photographs and color illustrations. Bibliography. Index. 2005
American Graphic Press ISBN: 0-9770095-0-5 $ 85.00


An elegant, expanded Special Edition is also available, limited to 100 signed and numbered copies. Hand bound in deluxe purple silk and housed in a matching gold-stamped slip case, the Special Edition includes exclusive 16-page opening photographic essay. The lovely volume has served as a presentation gift and honorary award. ISBN 0-9770095-1-3 $ 250.00


"This is a wonderful chronicle of the untold history of our country - the story of the brave and remarkable women who changed our nation." - Ken Burns, Filmmaker
________


R E V I E W of Winning the Vote by Dr. Diane Atkinson, author and British suffrage expert


Winning the Vote is an excellent account for the general reader of how American women shaped their own history, and influenced countless other women around the world. Their story is an important source of power and inspiration for women and men today.

Winning the Vote illuminates the origins of the American woman suffrage movement, some of the earliest organized activity on the subject in the world. The book covers formative events, then the central story of the mainstream National American Woman Suffrage Association (NAWSA). The illustrated history also gives detailed attention to the independent "militant" wing of the movement whose legendary direct actions were orchestrated by Alice Paul. Black suffragists, men, and anti-suffragists are also included.

The movement is treated chronologically, with particular emphasis on the years 1910-1920, making full use of hundreds and hundreds of beautiful oversized photographs and color illustrations, many reproduced here for the first time. The author, an accomplished graphic designer and photo researcher (and creator of "The Power of the People: Active Nonviolence in the United States"), was closely advised by historians, feminist scholars and suffrage experts. This unique book will appeal and communicate to virtually any age because of its skillful use of graphics and original source material.


---