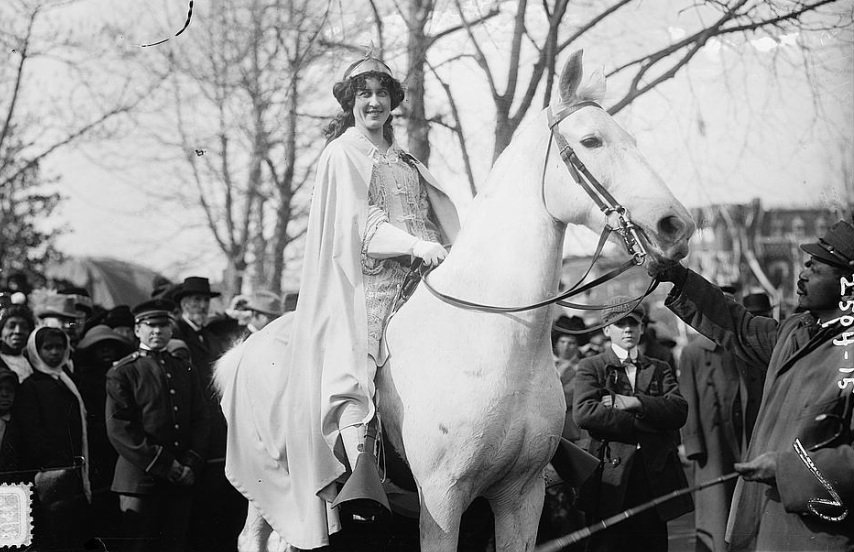 As an imposing herald at the front of the woman suffrage parade on March 3, 1913, Inez Milholland (above) led thousands of suffragists down Pennsylvania Avenue in the nation's Capital during the dramatic demonstration for a new constitutional amendment. Rather than riding in women's traditional side-saddle manner, Inez rode astride her friend's horse, Grey Dawn. Newspaper reporters called her the most memorable figure in the spectacular procession. The parade itself marked the opening round in women's renewed - and final - drive for the 19th Amendment.
_____________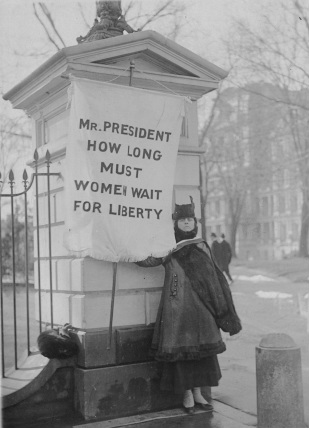 Remembering Inez
The Last Campaign of
Inez Milholland, Suffrage Martyr

Selections from The Suffragist, 1916
With Photographs from the Library of Congress

Edited with an Introduction by
Robert P. J. Cooney, Jr.

New York suffragist Inez Milholland journeyed west in October 1916 to harness the new political power of the western women voters to help pass the 19th Amendment enfranchising all women. When she collapsed and died campaigning for Votes for Women, her colleagues mourned her as a martyr to women's cause. Remembering Inez recalls Inez's final campaign and pays tribute to her importance as a symbol and inspiration to generations of women.

96 pages, 6 x 9" illustrated trade paperback 2015 ISBN 978-0-9770095-2-7 $14.95

---
____________

"For the first time in the world women are asked to unite with women in a common cause. Will you stand by?"
-- Inez Milholland, 1916



Remembering Inez tells the story of New York suffragist Inez Milholland, who collapsed in late October 1916 while on a speaking tour for women suffrage and died in Los Angeles a month later of pernicious anemia. She had just turned 30 and was hailed as a martyr by other suffragists for spending the last of her energy for women's cause.

The tragedy followed an intense and controversial campaign to pressure President Woodrow Wilson and the reluctant Democratic Party to support the 19th Amendment guaranteeing votes for women nationally. Her death led her colleagues to adopt a bold new strategy: six weeks after Inez died, suffragists began their unprecedented picketing of the White House. On their banners they carried Inez's final plea: "Mr. President, How Long Must Women Wait for Liberty?"

Classic Feminist Speech

Remembering Inez offers a window into the whole women suffrage movement, the first of the great twentieth century civil rights movements. Following in the footsteps of Lucretia Mott, Frederick Douglass, Lucy Stone, Elizabeth Cady Stanton, Susan B. Anthony and other early equal rights pioneers, Inez and twentieth century suffragists pushed the drive for Votes for Women to victory in 1920.

Remembering Inez features reports of Inez's whirlwind journey as well as her eloquent "Appeal to the Women Voters of the West," which she refined during her tour. This classic feminist speech, which Inez delivered with passion and conviction, urged women to back women in the 1916 presidential election by voting against the men who blocked their freedom. "It is women for women now, " she told her audiences, "and shall be till the fight is won."

The dedication Inez brought to her work in New York and nationally echoed the decades of intensive organizing, educating, and campaigning by three generations of women. During the final decade of the movement, between 1910 and 1920, Inez worked with suffrage leaders Harriot Stanton Blatch and Alice Paul and moved with them from the National American Woman Suffrage Association (NAWSA), led by Carrie Chapman Catt and Anna Howard Shaw, to the Congressional Union, which became the National Woman's Party. Following Inez's death, NWP members began picketing the White House in January 1917, and were harassed, jailed, and mistreated during the First World War.

Winning Enfranchisement

Often citing Inez's sacrifice, suffragists remained determined despite the war, and the drive for enfranchisement, gender equality, and an end to sexual discrimination continued. After Congress finally passed the suffrage bill in 1919, 36 states ratified it and on August 26, 1920 it became enshrined as the 19th Amendment to the Constitution. August 26 is now celebrated annually as Women's Equality Day. Women's achievements - and extraordinary women like Inez Milholland Boissevain (her married name) - are honored every March during National Women's History Month.

Inez was far ahead of her time when she recognized and tried to organize women's new power as voters: "Now, for the first time in our history, women have the power to enforce their demands, and the weapon with which to fight for woman's liberation." In remembering her, we remember all of our foremothers who loved democracy and were determined that liberty and justice were meant for all.

The 19th Amendment

The right of citizens of the United States to vote shall not be denied or abridged by the United States or by any State on account of sex.

Congress shall have power to enforce this article by appropriate legislation.